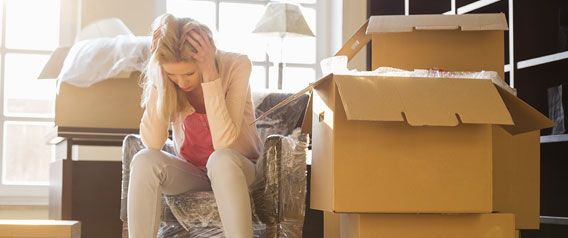 Foreclosure is the legal process your lender must follow to end your ownership rights in your home when you stop making your mortgage loan payments. If you fail to make these payments and are unable to make other arrangements with your lender, your lender may file for foreclosure.
The ABCs of Foreclosure Response
Act now and don't ignore the problem!
Beware of scams.
Contact your lender as soon as you realize you have a problem.
Don't sign any document that you don't understand.
Educate yourself on Ohio's foreclosure process.
Foreclosure prevention options and alternatives should be investigated.
Get the most assistance by staying in your home.
HUD-approved housing counselor should be contacted.
Ignoring mail from your lender will hurt you; open and respond to all mail.
Steps to help you stay in your home
If you are facing foreclosure, we encourage you to take the following steps to help you stay in your home:
Contact Your Lender
Ask to speak with the Loss Mitigation Department.
Contact your lender at the first sign that you may have difficulty in making your mortgage loan payment. Explain your circumstances and ask to participate in a workout resolution. Even if the foreclosure process has started, it is not too late to reach out to your lender.
Information to Have Ready When You Call:
Your loan account number.
A brief description of your circumstances.
Recent income documents such as:

Pay stubs.
Benefit statements from Social Security, disability, unemployment, retirement, or public assistance.
If self-employed, have your tax returns or a year-to-date profit and loss statement available for reference.

List of household expenses.
Be prepared to answer the following questions:
What caused you to miss your mortgage payment(s)?
Do you have any documents to back up your explanation for falling behind?
How have you tried to resolve the problem?
Is your problem temporary, long-term, or permanent?
What changes in your situation do you see in the short term and in the long term?
What other financial issues may be stopping you from getting back on track with your mortgage?
What would you like to see happen?
Do you want to keep the home?
What type of payment arrangement would be feasible for you?
What to expect:
Expect to have more than one phone conversation with your lender.
Your lender will usually mail you a "loan workout" package containing information, forms and instructions.
The completed package will be reviewed before the lender talks with you about a solution.
If you do not hear back from the lender in a reasonable amount of time after submitting the workout package (generally 7-10 days), contact your lender again and continue to follow up.
What to do when working with your lender:
Keep notes of all your communications with the lender including:

Date and time of contact.
Nature of the contact (face-to-face, phone, e-mail, fax, or mail).
First and last name of the representative.
The outcome.

If you make any oral request to your lender, follow up with a letter reiterating the oral request.
Send your letter by certified mail, return receipt requested, so you can document that the lender received your correspondence.
Keep copies of your letters and any enclosures.
Meet all deadlines the lender gives you.
Stay in your home during the process. You may not qualify for certain types of assistance if you move out.
If you do not hear back from the lender in a reasonable amount of time after communicating with the company, contact it again.
Continue to follow up.
Foreclosure Questions & Answers
What should I do if I get behind in my mortgage payments?
It is never too late to get help. By seeking help early, there is a greater chance of avoiding foreclosure. As soon as you anticipate problems in making your mortgage payment, contact your lender to explain your current financial situation. Contact your lender's Loss Mitigation Department and ask if you can participate in a "work out" resolution or obtain a loan modification.
What is a "work out" resolution?
Generally, a "work out" resolution involves resuming payments and arranging to pay the past-due amount over a short period of time.
Where can I go to find help?
In addition to contacting your lender, you can call the State of Ohio's Save the Dream Hotline toll free at 888-404-4674 for information and referrals. You can call a housing counselor approved by the U.S. Department of Housing and Urban Development (HUD) or a local resource in your area. These counselors are experienced in communicating with lenders and are able to determine where you are in the process and what "work out" options are available to you.
What should I do if I receive letters saying my home is going to be foreclosed upon?
Do not ignore letters or phone calls from your lender! If you are having problems making your payments, take action immediately by calling or writing to your lender's Loss Mitigation Department to explain your situation.
Should I continue to live in my home?
Yes, you are in a far better position to save your home by continuing to live in it. If you abandon your property, you may not qualify for assistance.
What should I do if I get a foreclosure notice?
Call your lender immediately to discuss alternatives to foreclosure. You have 28 days from the date you receive the foreclosure complaint to file an answer with the court and with your lender's attorney. An answer may be written in a legal format or in letter form. This is an important step in protecting your legal interests.
Should I be aware of anything else?
Beware of scams! Solutions that sound too simple or too good to be true usually are. Once your loan is in the foreclosure process, you may be contacted by those who will tell you they can "help" you keep your house. Be cautious. The best way to avoid scams is to work directly with your mortgage company and a HUD-approved housing counselor.
Should I consider refinancing?
Being able to refinance your loan depends on several factors. If you are already behind on your mortgage, your credit rating will be adversely affected. This could prevent you from obtaining a new mortgage at a reasonable interest rate. In addition, you may not be able to afford the fees and points that most lenders charge, especially if you have little or no equity in your home. If you do want to refinance, shop around for the best rate and terms possible and be alert for predatory lending practices. You may have the opportunity to refinance with the Ohio Housing Finance Agency's Opportunity Loan Refinance Program, which offers affordable, 30-year fixed-rate financing. To help determine your refinance options, call Ohio's Save the Dream Hotline toll free at 888-404-4674.
Foreclosure Scams
If a deal to buy, repair or refinance a house sounds too good to be true, it usually is!
In communities across America, people are losing their homes and their investments because of predatory lenders, appraisers, mortgage brokers and home improvement contractors who:
Use false appraisals to sell properties for much more than they are worth.
Encourage borrowers to lie about their income, expenses, or cash available for down payments in order to get a loan.
Knowingly lend more money than a borrower can afford to repay.
Charge fees for unnecessary or nonexistent products and services.
Pressure borrowers to accept higher-risk loans such as balloon loans, interest-only payments, and steep pre-payment penalties.
Target vulnerable borrowers to cash-out refinance offers when they know borrowers are in need of cash due to medical, unemployment, or debt problems.
"Strip" homeowners' equity from their homes by convincing them to refinance again and again when there is no benefit to the borrower.
Use high-pressure sales tactics to sell home improvements and then finance them at high interest rates.
How Foreclosure Rescue Scams Work:
If you fall behind on your mortgage payments, it is very common to receive telephone calls, home visits, and direct mail from a foreclosure "rescue" service. Scam artists often target defendants named in public records. The scam artists usually assert that they are "foreclosure specialists" or "mortgage specialists," claiming they will save your home from foreclosure in exchange for a sum of money.
Unfortunately, many people pay the scam artist, but find out months later that the company has done nothing to stop the foreclosure, and the house is set to be sold at a sheriff's sale. Don't let this happen to you!
Watch out for services detailing your situation in handwritten notes, services telling you not to contact your lender, services promising to save your house, and services requiring large deposits upfront.
Tips to Avoid Foreclosure Rescue Scams:
Contact your lender as soon as you have trouble making payments.
Contact a HUD-approved housing counselor for assistance if you are receiving letters threatening foreclosure and are not yet in a lawsuit.
Contact Legal Aid at (419) 352-6277 to find an attorney to represent you if you have a pending lawsuit against you.
Be wary of any claim to stop foreclosure for a fee. Do not make large upfront payments or deposits, and always ask for written information before you make a financial decision.
Never make your mortgage payments to anyone other than your lender. If you cannot pay, contact your lender immediately to work out payment arrangements.
Take your time and never sign a contract under pressure. Consult a lawyer or trusted family member before you sign.
Get all promises in writing. Always make sure oral agreements are included in a written contract; otherwise they are not guaranteed.
Check companies' reputations before doing business. Research companies' reputations with the Better Business Bureau and the Ohio Attorney General's Office to see if other consumers have filed complaints against them.
Never sign away ownership of your home without consulting a lawyer. Be especially suspicious of offers to lease back your home in order to buy it back over time, and beware of any home-sale contract in which you are not formally released from liability for your mortgage. Make sure you know the rights you are giving up.
Don't sign anything with blank lines or spaces, as information could be added later without your knowledge and consent.
If you do not speak English, never use a "rescuer's" translator. Instead, insist on using your own translator.
What is Predatory Lending
Predatory lending occurs when a mortgage loan with unwarranted high interest rates and fees is set up to primarily benefit the lender or broker. The loan is not made in the best interest of the borrower, often locks the borrower into unfair terms, and tends to cause severe financial hardship or default. To determine if a loan is predatory in nature, ask yourself these questions:
Is the loan being made on the basis of your ability to repay the loan and not solely on the value of the property?
Have the loan's terms been fairly represented and explained to you?
In order to avoid falling prey to these abusive practices, you must be a smart and informed shopper.
What Are "Red Flags" That Tell Me I May Be Dealing With A Predator?
A lender or investor tells you that he or she is your only chance of getting a loan or owning a home. You should be able to take your time to shop around and compare prices and houses.
You are asked to sign a sales contract or loan documents that are blank or that contain information that is not true.
You are told that the Federal Housing Administration insurance protects you against property defects or loan fraud. It does not.
The cost or loan terms at closing are not what you agreed to.
You are told that refinancing can solve your credit or money problems.
You are told that the only way you can obtain a good deal on a home improvement loan is if you finance or refinance with a particular lender.
Tips to Avoid Predatory Lending
Only deal with licensed mortgage lenders, mortgage brokers and loan officers operating under and subject to federal and/or state regulators. To determine if your broker of lender is licensed by the State of Ohio, contact the Ohio Division of Financial Institutions.
Read and get copies of everything you sign in connection with your mortgage.
Beware of "bait & switch" tactics where the lender or broker makes an offer with one set of terms and then pressures you to sign a loan with more expensive rates and hidden costs.
DO NOT sign blank forms. Forms should be completely filled out with no blank boxes or spaces.
Make sure your monthly payments are affordable. Be sure that if the escrow of taxes and insurance has been part of your old payment, it is included in your new payment when comparing price savings.
Make sure the rate and terms quoted by your lender and/or broker are given to you in writing and do not vary significantly from those presented at closing.
DO NOT shop based solely on lower monthly payments. Payments may be lower if the loan has a balloon payment or a variable rate.
Beware of door-to-door home improvement offers where the contractor offers to find you the necessary financing to make the improvements.
DO NOT fall for scams from out-of-state businesses claiming to arrange mortgage loans for an advanced fee or with the advanced purchase of special loan insurance.
Never falsely state or allow others to falsely state your income.
Borrow only what you need and can afford to pay back.
Remain current on your present mortgage obligations until closing and disbursement of new loan proceeds. If you are paying other debts off as part of the loan, remain current on them as well.
Know your credit rating and qualify for the loan you deserve. There is no reason to pay high rates and fees if you can qualify for better terms.
Where can I file a complaint if I believe I have been a victim of predatory lending?
Complaints regarding predatory lending can be filed with the Ohio Attorney General's Office at 1-800-282-0515 and the Ohio Department of Commerce, Office of Consumer Affairs at 1-866-278-0003.
Link to Save the Dream: Ohio's Foreclosure Prevention Effort: http://www.savethedream.ohio.gov
Hotline: 888-404-4674
Local Resources: http://www.com.ohio.gov/SavetheDream/docs/Wood%20County.pdf